Hey everyone! I apologize for my laziness... I've been reading so many books and have posted reviews for so few! That's why today I'm going to do... A Late Book Review Bonanza! You'll probably see a lot of these when I get off track... These will be about 1-5 books that I'll do quick reviews for!
Defiant by Mara Li, Jen Minkman, Lis Lucassen
Goodreads Link:
Defiant Link
Rating: 3/5 Worlds
Review: (Disclaimer: I got this from the author for an honest review, and am receiving nothing for the review. I am unbiased, and have not been bribed!) Defiant is a collection of three short stories, and each of them are really different. Overall, I liked all three stories, and I honestly can't pick a favorite. Each is about a girl, who is in for a big change. Honestly each was really good, and I wish there were more stories so I could find out what happens to them! I'll start with The Red Messenger. This was the first short story, and was really intriguing. The idea of the red coat and it's secret between the sisters was something I enjoyed, and each character was very well written. Uriah and Emma were a cute pair, but I was somewhat hoping for Emma to be a really spunky fight for herself kind of girl. Either way, I liked the story. The Island, the second story, is a bit more confusing. It's pretty obvious that it has to do with Star Wars, and that bugged me a bit, just because the concept of it confuses me. As much as it did boggle me, the story was interesting. I loved the idea of the 'Fools' and how she and Walt met. They're really cute together! Next, and finally, The Tribunal. This story was one of the ones that really intrigued me, as Justa's inner struggle was really interesting to watch. I definitely had to think about if I was in her place, and I was convicting a criminal, much less a criminal who killed my best friend. This definitely made me wonder if our court systems are biased, and yes, I know we swear an oath to no be biased, but what if we still are? Definitely a story that made me think. Overall, I liked all of these stories, and definitely recommend them!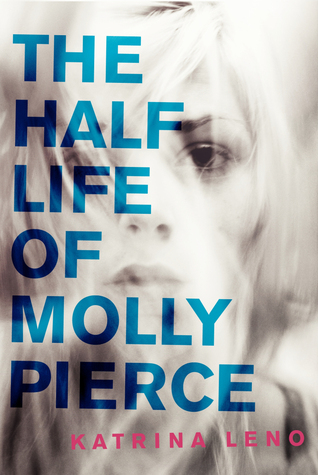 The Half Life of Molly Pierce by Katrina Leno
Goodreads Link:
The Half Life of Molly Pierce Link
Rating: 2/5 Worlds
Review:
This book ended up being very low rated by me just because of the fact that no one told her about (SPOILER COMING UP! READY? OKAY.) Mabel. That's really the biggest part of why I didn't give this a higher rating. It was just unrealistic that no one told her and it really bugged me. Just tell her! Even her sister and family! (SPOILER OVER! :) YAY!) Overall, I disliked the book greatly, and had trouble connecting with Molly and people in her life. Sorry for all those who do like it!