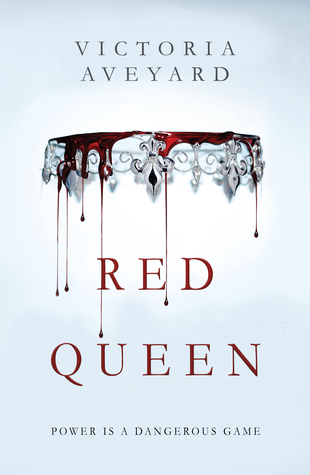 Red Queen by Victoria Aveyard
(The book I have waited 5 months for!!! :) )
Synopsis:
The poverty stricken Reds are commoners, living under the rule of the Silvers, elite warriors with god-like powers.
To Mare Barrow, a 17-year-old Red girl from The Stilts, it looks like nothing will ever change.
Mare finds herself working in the Silver Palace, at the center of those she hates the most. She quickly discovers that, despite her red blood, she possesses a deadly power of her own. One that threatens to destroy Silver control.
But power is a dangerous game. And in this world divided by blood, who will win?
Rating:
5/5 Worlds
Review:
After waiting 5 long months, FIVE, thanks Epic Reads for getting me interest in it, I have read Red Queen. After having it preordered on Amazon I got it last night. And today I finished it. My first words shall be this: OMG I AM FREAKING OUT. This book is amazing! It was very action packed and had many twists and turns. The war between the Red and the Silvers made a very interested story line, and I love how the whole world is set up. Perfection!
The characters who are noteworthy to me includes Cal, Mavon, Elara, and of course Mare. First Cal and Mavon, I'm pushing them together, as they are both Silver princes, and both have fallen in love with Mare (Yes, a love triangle, but WAIT THERE'S MORE) Personally, this book fell flat with my when it came to the romance aspect. There wasn't really any great defining moments for me when it came to the romance, and for the the romance wasn't there. Honestly, I think that the little romance the book has, actually makes it better. I don't get why people are kissing when other people are engaged, and then there was really no good makeout scene, but I really didn't mind. I was wayyy too focused to see how the entire Red population would end up. Overall, the ending with these to princes was something totally not expected, but it was really awesome anyway!
Now, Elara. Elara was one character I didn't get. She's the queen, but her personality kept switching and I never could really understand her. We never got the background information that made our mind up about her, and now I'm really just unsure of what was going on with her. I loved her attitude, and how she acted in some scenes, but in others I was just confused about her character.
Finally, Mare. I connected with her, and we shared the mystery and wonder of finding out why she was different. In the end, the reason wasn't as big as I expected, but it lead to a really awesome ending scene and led me to want to read the next book. It was paced awesomely, and was just a fantastic read! Overall, I'm still in physical shock from reading this book, and am begging Victoria Aveyard to hurry up and write the next one!
In a Little Red World, Natasha