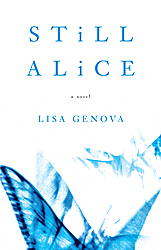 Still Alice by Lisa Genova
Symbiosis:
Alice Howland—Harvard professor, gifted researcher, and lecturer, wife, and mother of three grown children—sets out for a run and soon realizes she has no idea how to find her way home. She has taken the route for years, but nothing looks familiar. She is utterly lost. Medical consults reveal early-onset Alzheimer's.
Alice slowly but inevitably loses memory and connection with reality, as told from her perspective. She gradually loses the ability to follow a conversational thread, the story line of a book, or to recall information she heard just moments before. Genova's debut shows the disease progression through the reactions of others, as Alice does, so readers feel what she feels: a slowly building terror.
I chose this book for
MTPC
, an
d for the category of mothers. I don't usually read things like this. I don't mean realistic fiction, but I mean a book about an adult. I'm more a YA kind of girl, I read about teens. It's just me. Anyway, this book really touched me. I can't explain this book fully,
because
it was just real. I believed Alice was a real person, and her frustration with her situations radiated to you. I could feel her emotions, and they were overpowering, I almost cried. I love the characters, and how the plot actually brings the children into the story. I'm guessing if it was a different author, they wouldn't be in as much. It seemed that Alice's relationship with her husband was becoming strained. The thing is though, that was different with the kids. The kids you actually got to see her problem reflect when she has
conversations
with the kids. I loved Alice's character, and love Lisa for writing this story! SO heartfelt, real, and amazing!
In a little emotional world, Natasha